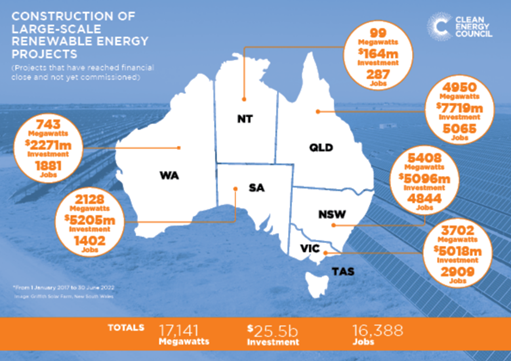 Webinar: Australia's giga-scale green hydrogen opportunities
Webinar: Australia's giga-scale green hydrogen opportunities
Hydrogen Denmark (Brintbranchen) and the Ministry of Foreign Affairs of Denmark in Australia are excited to invite you for this webinar with two very interesting speakers from some of the largest green hydrogen projects in Australia.
The Australian green hydrogen sector is moving at a very rapid pace, the Australian government and major industry players are positioning Australia as a supplier of green hydrogen to the world market. A number of projects are already under development. The time is now to show-case Danish H2 technology and solutions.  
More than 20 projects in GW-scala under development
Australia is world leading within the development of large scale green hydrogen and Power-to-X projects with a focus on exporting the product to Asia, but also decarbonizing Australia's heavy industry (especially the large mining sector).
One of the world's leading green ammonia exporters by 2050 (IRENA 2022)
Australia is currently the world's largest exporter of liquefied natural gas (LNG). Australia also has the potential to be a leading supplier of hydrogen and ammonia as the world navigates the energy transition.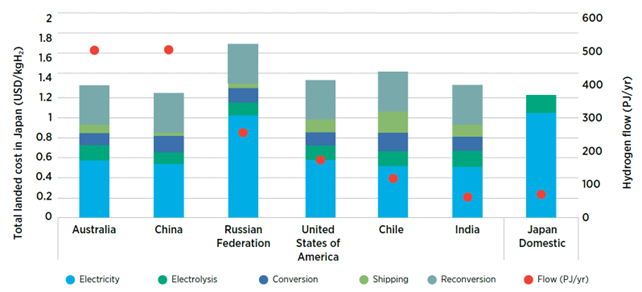 Estimated Green Hydrogen landed cost breakdown for regions exporting to Japan in 2050 (source: IRENA (2022), Global hydrogen trade to meet the 1.5°C climate goal: Part I) 
Introduction to the program
The Murchison Hydrogen Renewables Project is backed by Copenhagen Infrastructure Partners. It will involve a 3GW electrolyser, 5GW of wind & solar and will produce approximately 2 million tonnes of ammonia per year. Shohan Seneviratne, CEO of the Murchison Hydrogen Renewables project will outline the project's ambition and current progress status.
Woodside Energy is a global energy company. The company has a portfolio of quality oil and gas assets, operating 5 per cent of global LNG supply in 2021. Woodside aims to thrive in the energy transition as a low-cost, lower-carbon energy provider and has set a target to invest $5 billion in new energy products and lower-carbon services by 2030. The company is progressing opportunities for producing products such as hydrogen and ammonia, including H2Perth, H2TAS in Australia and H2OK in the United States. Woodside is also looking at lower-carbon services such as carbon capture and storage as well as carbon capture and utilisation. Andrea Galt, Head of New Energy Europe, will outline the company's plans to thrive in the energy transition and discuss how Woodside is open to collaboration to expand its global portfolio.
Webinar program 17th August 2022 (webinar will be recorded)
| | |
| --- | --- |
| | 8:30 Introduction by Hydrogen Denmark – Tejs Laustsen Jensen, CEO Hydrogen Denmark |
| | 8:35 Introduction to the Australian Hydrogen market – Michelle Carden, Senior Commercial Advisor, Danish Embassy/Trade CouncilRonnie Dalsgaard, Senior Advisor, Danish Trade Council |
| | 8:40 Murchison Renewable Hydrogen Project – Shohan Seneviratne, CEO |
| | 9:00 Woodside Energy – Andrea Galt, Head of New Energy, Woodside Energy |
| | 9.20 Intro to PtX delegation visit with DI: Power-to-X Delegation to Australia 23-28 October 2022 (danskindustri.dk) – Ronnie Dalsgaard, Senior Advisor, Danish Trade Council |
| | 9:25 Q&A |
Presentations from the webinar
Below you can find the presentations and a recording of the webinar.
Spørgsmål eller kommentarer?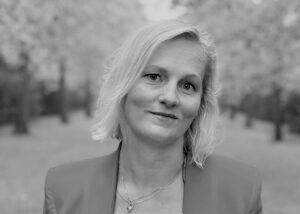 Mette Kirstine Schmidt –  Politisk og international chef
mks@brintbranchen.dk
tlf. 31 70 74 24